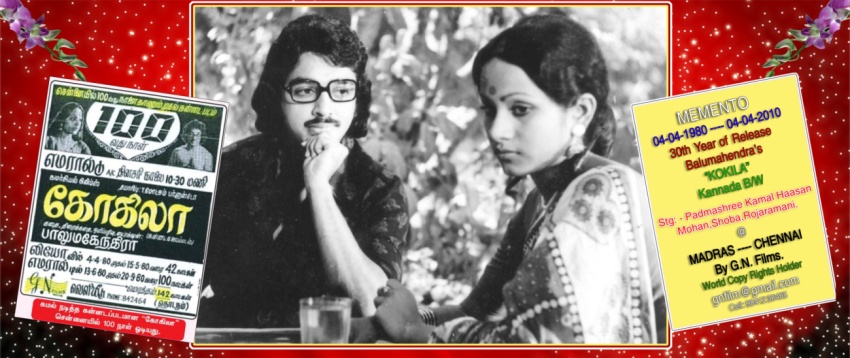 I have been searching for the songs and the film for many years. Last year I found a VCD of this film in 2008 and managed to extract the songs and the title music. Sadly one song "oy gum gum" is quite short and appears to be truncated. Sridhar Rajanna who is part of kannadaaudio.com site/forum and the radio, and manages most of the programs has the following comments about the song "sanje tangaali" - " Sanje tangaaLi maisOkalu" - from Kokila : A highly emotional solo number rendered in her classic style by S Janaki. Very little use of instruments and the emotion of the character is superbly conveyed in the music and the singing. Hats off to S-C and S-J. It is hard to find these rare gems, A-I-R plays this occasionally, you might be able to catch it, if you are lucky. This is the first movie of the famous director "Balu Mahendra". Had Kamal Hassan, Shobha (the tragedy queen of late 70s-early 80s) and Roja Ramani in the lead roles. One of the few Kamal movies in Kannada. "Mohan" who played Kamal's friend's role was later known in most movies as "Kokila"Mohan. This movie was re-made in Hindi in the 90s by Balu M, and had Ramesh Aravind, Revati, Heera in lead roles "
Check his blog at http://sridiary.blogspot.com
His online radio site and the Kannada music forums are at http://www.kannadaaudio.net and http://www.kannadaaudio.com
The VCD which I acquired in 2008 turned out to be a pirated copy ! This was confirmed by Mr. RGV Rao of GN Films, Chennai who is now the official world rights holder of this film and is planning a technicolour release in near future. He contacted me (Dec 2010) and promised me to give me an official copy and a poster to publish on this page. Mr. Rao confirmed that a truncated version of the song "oy gum gum" was used in the film, so there isn't any full version. I found it difficult to believe. This song has a completely different arrangement compared to the original Bengali song by Sabita "Ei ghum ghum ghumanta". However, one mustn't complain. The most beautiful song of this film is undoubtedly " Sanje tangaaLi maisOkalu" and it was a great find. The original Bengali song "aaj noi gun gun gunjan premer" by Lata is an immensely popular song and it is also a fantastic composition but the Kannada version is equally beautiful and has a completely different feel.
The other surprise in this film is a little piece of excuisite background music with wonderful rich orchestra and Sabita softly singing "kaise manau piwawaa" from the Hindi film "Chardeewaari". Typical Salil - using a hindi song in a kannada film as a background.