articles
Salil Chowdhury - The Writer and the Poet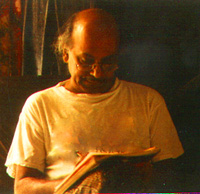 Not many people are aware that Salil was an exceptional writer. Even in Bengal, majority of the Bengalees do not know that he was a writer and a poet besides being a composer. When he composed a song in Bengali, he almost always wrote the lyrics. During the '40s and '50s his Bengali songs expressed his anti-colonial feelings, his love for the people of his country and the poor and oppressed landless peasants. His songs were revolutionary. After the independence, his lyrics very often expressed his deep feelings about the social injustice and the unfairness present in our society. He never wrote the typical romantic Bengali lyrics which were quite common in those days. One of his close friends was the then famous poet 'Sukanto Bhattyacharya'. Salil set some of his poems to music. These songs, like 'Runner' and 'Abaak Prithibi' have become part of the Bengali culture.
Salil also wrote poetry. His poems are quite unusual in the sense that they are in one hand quite simple to read and on the other hand they are very direct and really hit you. In fact, his poems are like simple dialogs. He uses the common man's language. No difficult or complex words. Just plain Bengali. But the effect is dramatic. He wrote numerous poems, some published and some not. Often he would write at the back of an envelope and then lose it.
Different situations and events prompted him to write poems. During the 300 years celebration of Calcutta he wrote a poem which questioned and challenged the festivities. It was controversial to say the least. None of the magazines would publish it ! After his death 'The poems of Salil Chowdhury' was published by Sabita Chowdhury. Unfortunately, this book doesn't have all his poems and sadly it is long out of print.
In 1983 his only album of his poems was released. He recites his poems with background music composed by him. A collector's piece.
For a full discussion of Salil as a poet and to get a taste of some of his poems I will soon create a new page "Poems of Salil" containg some of his poems.
When he wrote his first Bengali short story 'Dressing Table', it caused a sensation. Since then he wrote several short stories and plays. His other famous short story 'Sunya Puron' was about a midget's fight to overcome his shortness. His first staged play was 'ChaalChore'. Unfortunately the scripts of two of his later plays 'Janaantik'(1948) and 'Sanket'(1949) can't be traced. Salil also translated the well-known Irish play 'At the rising of the Moon' in Bengali. It was called 'Orunodoyer Pathey'. After 23 years he wrote 'Aapni key ? Aapni Ki karen? Apni Ki korte chaan?' - literally meaning 'Who are you ? What do you do ? What would you like to do ?' This was staged by 'Theater Unit' of Calcutta and was directed by the late Shekhar Chattyopadhaay in 1972 at the 'Rangana' stage.
Salil wrote for films as well. His first film script was 'Rikshawaalaa' in Bengali. He met Bimal Roy during one of his trips to Kolkata and Bimal Roy read this story. He was so impressed that he wanted to make a film based on this story and Salil was invited by Bimal Roy to Bombay, where he wrote it's Hindi version 'Do Bighaa Zameen'. Later he wrote the stories for 'Pinjre Ki Panchhi', 'Parakh' and 'Minoo' . The Kannad film 'Chinna Ninna Muddaduwe' was later filmed based on one of his stories. In the late '70s he wrote the story of a Bengali film 'Ei Ritur Ak Din' and was about to direct it himself. Unfortunately, that didn't happen.
"Rikshawaalaa" was later made into a very successful Bengali film in 1955.
Salil's poetry and songs became a subject for the post graduate Bengali students in the 'Rabindra Bharati' University of Calcutta. In fact, Salil did give some talks at the university on 'Music and Poetry'.
Salil moved effortlessly between the music and his literature. Equally creative and brilliant.
Narayan Gangopadhaay, the famous Bengali writer once said ' If Salil became a full time writer, we would lose him as a composer and lose his wonderful songs, but we hope that Salil doesn't stop writing'.