Introduction of Salil Chowdhury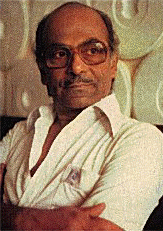 Salil Chowdhury was born on 19th November 1922 (although his year of birth is disputed and often published as 1923 or 1925) in a village called Gajipur in south 24-parganas in West Bengal and died on September 5, 1995.
To me Salil was a true genius. His untimely and sudden death on September 5, 1995 was a great shock to many and a great loss to India.
He was one of the greatest musical talents India ever had, a man of many talents. He was not only an outstanding composer, an accomplished and gifted arranger, poet and writer but above all an intellectual. A master multi-instrumentalist, he played excellent flute, Esraj, violin and piano , with a deep and well-studied understanding of several other instruments as is evident from their creative use in his music.
He spent many years of his childhood in the Assam tea gardens where his father was a doctor. He grew up listening to his father's large collection of western classical music and the folk songs of Assam and Bengal. This influenced him considerably and shaped his musical thinking. Young Salil could sing very well and played excellent flute from the age of eight. In fact his expertise in flute brought him in contact with the outside musical world. He was very fond of his father. Salil remembered how his father once hit one of the British managers and broke his three front teeth after he called his father 'dirty nigger'. Salil's father organised and staged plays with the tea-garden coolies and other lowly paid workers . Salil remembers his father's strong anti-British feelings and his concern and love for the oppressed tea garden workers. After graduating from Bangabaashi College in Calcutta, during his university years his political ideas were fast maturing along with his musical ideas. Living through the Second World War, the Bengal famine and the hopeless political situation of the '40s, he became acutely aware of his social responsibilities. This is when he joined IPTA (Indian Peoples Theater Association) and became a member of the communist party. IPTA, which went on to become one of the most dynamic performing art movements in India in the 1940s and 1950s, is known to have had rather modest beginnings in 1942, before it became like a magnet for the young and radical artists, actors, musicians and dancers of the period. The artists were not necessarily members of the Communist Party of India. But they had Left sympathies and asserted a kind of radical idealism that raised progressive political activism to a creative pitch. During this period Salil wrote numerous songs and with IPTA comrades took his songs to the masses. They travelled through the villages and the cities and his songs became the voice of the masses. Songs of protest, which made people aware of the rampant social and political injustice which surrounded them. These songs became very powerful and stimulating. In fact, Salil always retained his strong feelings for the social injustice and very often wrote songs which reflected those feelings. He called these songs the 'Songs of consciousness and awakening'.
These mass songs became a part of the independence movement and they are still performed all over Bengal after all these years. In a way they have now become an integral part of the Bengali heritage.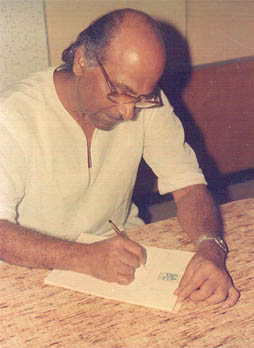 Salil's Bengali songs changed the whole course of Bengali modern music. Bengalees were thrilled and amazed to hear his songs with completely new melodies, new lyrics and totally new musical arrangements. A new wave came sweeping across Bengal in the '50s and continued for at least three decades.
While his musical message reached almost all parts of the country as the multifaceted composer set even Telugu numbers to music, the rest of India was denied access to his poetic abilities.
We can see two main phases of Salil. The first phase starts in the pre-independence era of the '40s and goes up to '54-'55 and the second phase is after that. Basically, the first phase was the non-professional in it's intent. His professional phase started around the mid-fifties. One has to study both these phases to understand and appreciate Salil Chowdhury's music. We see Salil as a brilliant lyricist, a song writer and a poet in his first phase and a very matured and exceptionally talented composer in his second phase. The composer Salil reached the greatest heights in his second phase which basically started when he arrived in Bombay to compose for the film 'Do Bigha Zameen'. Salil wrote a short story called "Rickshawala" in the early '50s and together with his close friends Ritwick Ghatak and Mrinal Sen were thinking of making a film. In the meantime Bimal Roy the well-known film director from Mumbai and a friend of Ritwick Ghatak was visiting Kolkata and he was introduced to Salil. Bimal Roy read the story "Rickshawala" and liked it very much. Once he returned back to Mumbai he sent a telegram to Salil on the day he was getting married. The year was 1952. Bimal Roy invited Salil to Mumbai immediately and told him that he has decided to make a Hindi film based on his story and Salil should write the script. Later, it was decided that Salil should also compose the music. That Hindi film was "Do Bigha Zameen" released in 1953 and rest is history !
Since then he had composed for over 75 Hindi Films, around 45 Bengali Films, 26 Malayalam Films and several Tamil, Telugu, Kannada, Gujarati, Marathi, Assameese and Oriya Films. He has composed some memorable background music for a number of documentaries produced by Films Division of India and other independent Film Producers such as Dr. Krishnaswamy of Chennai. Besides all this Salil has also composed music for a number of TV-Serials and TV-Films.
Salil was arguably the most versatile musician in the world of Indian cinema. To the music connoisseurs he was better known as the non-conformist music composer whose unceasing search for perfection towered above everything else in his life.His meticulous attention to details, a scrupulous ear for musical content, an insatiable desire for improvisation - it all remained with him till his last days. His phenomenal flair for instruments prompted even an expert like Jaikishen to refer to him as a 'The Genius'. Raj Kapoor once said 'He can play almost any instrument he lays his hands on, from the tabla to the sarod, from the piano to the piccolo'. He was in fact a composer's composer, because unlike his market-driven counterparts, he never really set prose to music. To him the melody was sacrosanct and had to precede the words. The situation could then be adapted.
Salil's music was a unique blending of the east and the west. He had once said 'I want to create a style which shall transcend borders - a genre which is emphatic and polished, but never predictable'. He dabbled in a lot of things and it was his ambition to achieve greatness in everything he did. But at times, his confusion was fairly evident - "I do not know what to opt for: poetry, story writing, orchestration or composing for films. I just try to be creative with what fits the moment and my temperament" he once told a journalist.
In another interview first published in 1993 in The Telegraph and then reprinted in 1995, he said that "When I started my music career I imagined the whole world of music as a very tall tower for me to climb and now after all these years I see that the tower has remained as tall as before."
To me Salil was a true genius and I will always wonder at his unfathomable talent. I guess he was much ahead of his time and was never fully appreciated or rewarded.

A talent does what it can, but a genius does what it must