Sachin Shankar and Salil ©
Salil's compositions for Sachin Shankar's Ballet Unit
A few years back Salil started writing his autobiography in a Bengali monthly magazine "Protikkhan". Unfortunately he could not complete it but whatever he wrote was later published as a book called "Jibon Ujjiban" (Life and Regeneration). Its a wonderfully candid book. Salil talks about his childhood, his musical influences, his romantic involvements, his struggles etc. Its a must read for anybody who wants to know more about Salil. In this book he writes affectionately about the biggest musical influence in his life - his cousin Nikhil Chowdhury. At his cousin's place Salil learnt to play various musical instruments and understand each instruments character and role. Later, when he was a college student he played flute for a travelling female dancer. He got paid for that which helped him to pay for books etc. After that he travelled with another dance group, more professional and gained invaluable experience in composing music for dances and ballets. At this point he started studying about western harmony, use of counterpoints etc and his understanding and knowledge of different instruments became more thorough. This knowledge of composing music for dance dramas and ballets made Salil an expert in composing background music for films and documentaries. In this book he also talks about his role in composing music for Sachin Shankar Ballet Unit.
To find out more about Salil's relationship with Sachin Shankar I decided to find out more about his work with Sachin Shankar Ballet Unit and that brought me to Kumudini Shankar, Sachin Shankar's wife. Sachin Shankar died on May 10, 2005 but Kumudini with her son Shashank still run Sachin Shankar Ballet Unit.
So, who was Sachin Shankar ? Ravi Shankar, Uday Shankar, Devendra Shankar and Rajendra Shankar were four brothers. Their father and Sachin Shankar's father were brothers. So, Sachin Shankar was Ravi Shankar and Uday Shankar's cousin. Obviously he was very much influenced by his exceptionaly talented cousins. Sachin Shankar became the president of the communist party of India (Western Provinces) sometimes in the mid '40s, just after IPTA was formed (1943).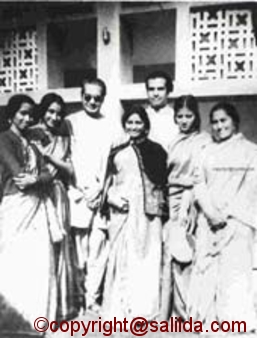 IPTA became an important platform for people all over India to promote and perform the rich heritage of Indian folk music and dance. Sachin Shankar had met Salil at IPTA meetings and a few years later, in 1953 Sachin Shankar had formed his own Ballet Unit in Mumbai to propagate an unique dance form created by the great choreographer Shri Uday Shankar and with the blessings from people like Shri Chinmoyananda, Mulk Raj Ananad, Harindranath Chattopadhyay, V. Shantaram, Pandit Narendra Sharma, Pandit Ravi Shankar and Salil Chowdhury. In the following years Sachin Shankar's Ballet Unit created a number of unique Dance Ballets and toured around India. Music for these ballets were composed quite often by Pandit Ravi Shankar. In the picture to your left you can see Uday Shankar, Sachin Shankar and Kumudini (front right) with the other performers.
The first ballet was "Fishermen and Mermaid" for which the music was composed by Hemant Kumar. Salil's involvement with the Ballet Unit started quite late in 1971 with "Boatmen of East Bengal" . Below is a list of all the ballets for which Salil composed the music :
The music of all these ballets is preserved at the Sangeet Natak Academy. Please remember that all the music samples given here belong to Sachin Shankar Ballet Unit and not for distribution or any commercial use. As you must have gathered, I am not authorised to publish the full music on this website. So enjoy whatever I could get.
Introduction to the Ballets © duration 1 min 16 sec
This short introduction was always presented before an evenings Ballet performance. It starts with a minute of beautiful music immediately recognisable as Salil followed by the commentary.
Listen to the introduction
1. The Train (1971) © durartion 41 min 46 sec
This was the first ballet for Salil. The simple story about a long train journey. Sachin Shankar introduces this ballet - " Tale of a train journey...This is a moving train bearing innummerable passengers who now get in and now get off each at their pre-destined station.The ticket collector, the ticketless traveller, a mad woman, a female street singer, a white-capped leader followed by his admirers, fashionable girls are all the characters who enlive and make the journey both colourful and unique. Young moderns from Goa start playing on their guitar singing and dancing merrily while the train goes on and on. The train stops for the last time. The newly wedded copule, the bride and the bridegroom whispering to each other to sweeten the journey. Its so simple to be happy they seem to say but it is so difficult to be simple." Its like the story of our life.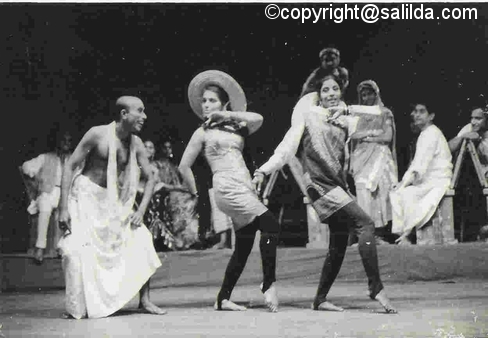 The music is wonderful. There's a delightful little folk song of Bihar "tohar mukadmaa laagat bhagalpur" (Sabita and Pankaj Mitra) followed by a young womans singing "O sajnaa barkhaa bahaar aayi" (Sabita). Salil also uses the well-known Konkan folk song "chio chio chi" (Manna Dey and Chorus) which he had used in the film "Musafir" ("munnaa baDaa pyaaraa"). Finally Salil uses the well-known IPTA song "maanbo naa bandhane" (Sabita and Manna Dey). Poet Harindranath Chattyopadhyay wrote some very catchy and rhythmic poetry which he recites as the train races past stations. Must be the first hindi rap ! Originally though this "rail gaadi" song was sung by none other than the well known film actor Ashok Kumar in the film "Aashirwaad" (1968). It seems like Harindranath modified the lyrics a bit for "The Train".
Listen to excerpts from train : harindranath_rap1, undir_mama, harindranath_rap2

2. Boatmen of East Bengal (1971) © duration 8 min 20 sec

As the name signifies this ballet was about the life of the Boatmen of East Bengal (now Ban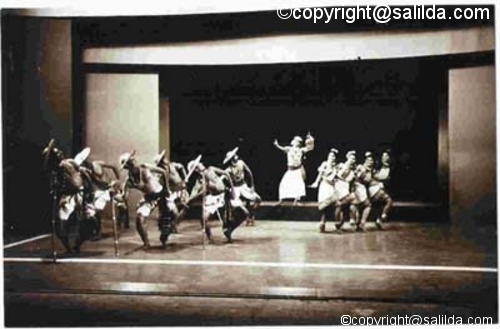 gladesh). One of Salil's rarely heard compositions "dayaani koribaa allah re" was beautifulli sung by Pankaj Mitra. Actually Salil's longtime friend and the well-known folk snger Nirmalendu Chowdhury used to sing this song quite often in BYC (Bombay Youth Choir) and at IPTA meets and originally Salil used this song in a Hindi Film "Laalbatti(1957) in which Nirmalendu sang this song in Hindi ("kyaa se kyaa ho gayaa allah re"). Incidently, Pankaj Mitra was a well-known and longtime member of IPTA by then. Salil got Pankaj Mitra to record two very well-known Bengali songs in 1978.
Listen to part of "dayaani koribaa allaah re"
3. Naa (1972) © duration 45 min
Naa is an unique and dramatic 45 minute ballet which tells the story about a young man who is sentenced to death by hanging for some crime he had commited. While he is standing on the platform with the noose around his neck he is given just three minutes to make his last wish. In stead, he dreams that he has taken the noose off his neck and he is running free.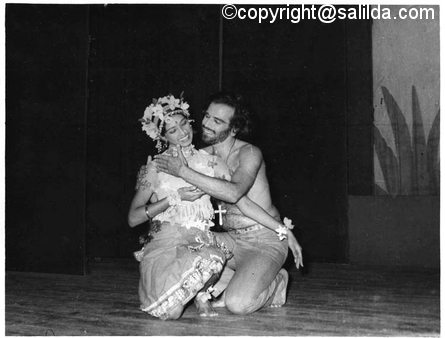 The music is vintage Salil and is extraordinary. On one hand, the music creates the suspense and the excitement of his desparate run to freedom and on the other hand it captures the surrounding atmoshphere with amazing variety. Salil's use of various rhythm instruments and a rich blend of melodies creates the rapidly changing scenario.One can feel that the yound man is running for his life. At one point the young man enters a church. Here he finds some quiet and peace while the chuch choir is singing a beautiful hymn "lord O my saviour, sanctify my prayer". According to Kumudini, Salil gathered some choir singers from a church in Bandra (Mumbai) and arranged the voices to sing in beautiful harmony. The scenario changes again and after a while we can hear "dhitang dhitang bole" in Bengali. This version is quite different to the well-known recorded version of this song.The music changes again and suddendly we can hear a beautiful classical song "vilo paale madhumilanape ya" composed by Dinanth Mangeshkar and sung by Prabhudeb Sardar, a Saraswat of Kolhapur gharana. Just before the end the hymn returns briefly to signify the end.
The story of "Naa" has an uncanny resemblence with a silent era short French film "La Rivière du Hibou" (An occurence in owl creek bridge).
Listen to some sound excerpts from Naa - naa_01, naa_02, lord o my savior, dhitang dhitang bole
4. Ghost (1973) © duration 34 min 11 sec
Based on a famous short-story by Oscar Wilde, Ghost is the story about a haunted house and all the inhabitants of that house. The resident ghost frightens everyone who comes to live in that house and they promptly leave until one day a child arrives with his parents and that child refuses to get frightened by the ghost. He tells the ghost that he is not at all frightened by his antics and he should stop frightening people for no reason. In fact he becomes the ghost's friend. The child asks him why he insists on frightening innocent people. The ghost replies that all he wants is to be free from his tortured state and he is afraid that he is doomed to remain a ghost for ever. He is afraid of waiting for ever.
In a broader context Ghost is about all of us - the humanity. We are all waiting for something. Our waiting is endless and we never seem to be able to reach a state where there is no waiting. We are all like the ghost.
Besides some remarkable music for this ballet Salil has used some wonderful songs. He made use of (not composed) two beautiful classical songs performed by Gulam Mustafa Khan - "aayi barkhaa rut" and "jogiyaa mere ghar aa". Pankaj Mitra and Sabita sing "sunoyoni sunoyoni" (previously recorded in 1967 by Nirmalendu Chowdhury) and there are two wonderful folk songs "kai borelo kumblo monzo" (konkan) and "he paaoli deomaajhaa malhaari".
Listen to he paaoli, kai borelo
5. Cricket (1973) © duration 12 min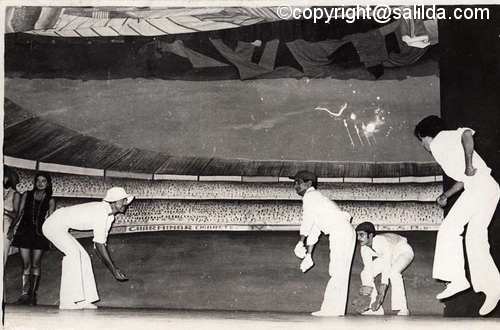 This is a short ballet of 12 minutes covering a full cricket match with all the excitement and suspense. One can only appreciate and enjoy the music when one sees the ballet. This ballet was specially made for Filmfare magazine.
Listen to excerpts from Cricket: cricket_01, cricket_02

6. Palki (1975) © duration 12 min 08 sec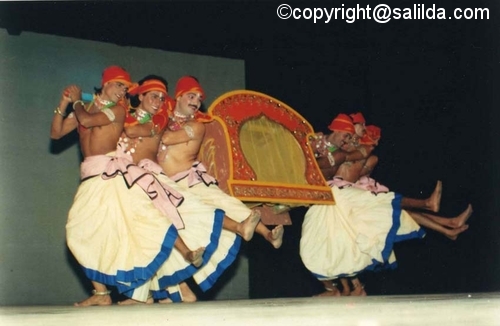 "Palki" (Pallequin) is the story about a bride leaving her parental home and travelling to her husbands home. The journey of the Palki with the bride is beautifully presented in the ballet. Hemant Kumar sings the song "Palki chale" in Hindi. The lyrics are written by Yogesh. The original "Palki Chale" (1952) was also sung by Hemant Kumar and it still remains one of the most well-known Salil compositions.
Listen to palki chale in hindi (not complete)
7. Waiting (1975) © duration 37 min
This is a short ballet based on Salil's poem "Ak guchchha Chaabi" ("A bunch of keys"). This poem is about a bunch of keys which the poet had found after his father passed away. He tries all the keys to open the doors but none of them fits the locks. His mother tells him that these are the keys which once opened the doors to the truth and trust. They don't anymore. She tells him that his father tried and his grandfather tried to open these doors but it didn't work. However, she insists that he shouldn't give up and throw these keys away. He should pass these keys to his children and the grandchildren. She is certain that one day those doors of truth and trust can be opened by these keys.
This ballet is about all of us waiting for something good to happen. We have lost the goodness in us and we are all hoping that one day our honesty and our mutual trust will return and we will again be happy. The music is really wonderful. Classic Salil infact. Salil uses the hindi version of his famous Bengali Mass Song "Pathe ebaar naamo saathi". The hindi version "Tumhe watan pukaartaa" was written by Yogesh. This hindi version was later ('80s) performed in Delhi Doordarshan.
Listen to a few sound fragments here : waiting_01, waiting_02, waiting_03.
8. Everybody (1986) © duration 29 min 50 sec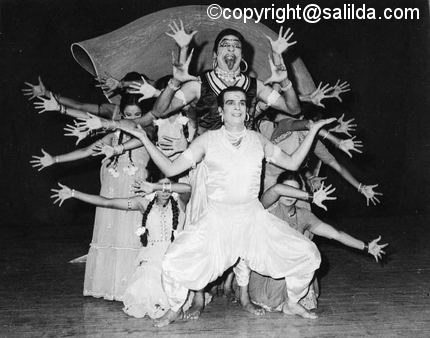 This was the last ballet for which Salil composed the music and I don't really have much details about its theme. The music is nothing special. Its much modern and easily recognisable as Salil composition.
Listen to excerpts from Everybody: everybody_intro, everybody_01