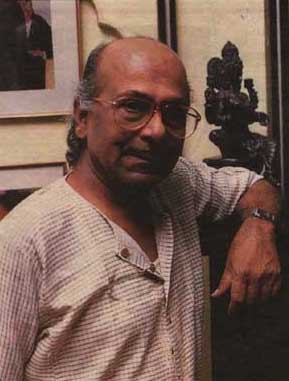 Bengali Mass Songs of Awakening and Protest
Click here for the list of songs
Salil's political thinking and the awareness was shaped during his childhood in Assam tea gardens when his doctor father frequently confronted the British tea garden managers and took part in the anti-British rallies such as burning all his British clothes. His father also frequently organized and staged plays using the lowly paid coolies and down-trodden workers of the British owned tea gardens. Salil later admitted that more than 50 years ago, during the British occupation, it was unthinkable and quite courageous for his father to organize such plays portraying the social exploitation by the British. Maybe this is when Salil's strong socialist feelings took shape and later on this prompted him to write these songs and join IPTA (mentioned below). He wrote about the landless peasants, about the corrupt British justice, and about social exploitation of the poor by the rich. He called people to fight back, warned people not to give up their struggle and always remain alert. Most of his songs composed from approximately mid-'40s till the early fifties very often expressed his anti-British and anti-colonial feelings and they were songs of protest, songs of revolution and songs of hope for the workers of the land.
Salil later became involved with the left-wing movement and joined the IPTA (Indian Peoples Theater Association or as the Bengalees know it 'Bharotiya Ganonatya Sangha'). He wrote plays, wrote poems and composed numerous songs. IPTA became the revolutionary platform for the masses and Salil took his songs and his plays to the villages. Even now IPTA songs are sung by Bengalees worldwide. Just after Salil's death several ex-IPTA members and Salil's contemporaries wrote about him, his contribution to IPTA and recalled those glorious days. Fortunately, I have collected most of these articles and magazines.
Much later, in his second phase, Salil formed the Bombay Youth Choir. This was a huge success with all the then famous singers such as Manna Dey, Mukesh, Lata, Dwijen Mukherjee, the actor Asim Kumar, Ruma Ganguly (Kishore's wife then) and host of others. Initially Naushad presided and later Anil Biswas. Salil composed new songs for the group and got lyricists like Prem Dhawan and Shailendra to write for him. Those were indeed heady days. Several songs from BYC were used later in his films.
Salil always remained a strong socialist and was always a keen observer and critic of the social injustice in our society. In the seventies and later he composed some more mass songs but it is widely regarded that Salil's compositions from the '40s and early '50s remain some of the best compositions in the Bengali modern music.
Since each and every song was composed with some purpose and since each song makes a forceful statement, I have tried to add comments to each song to give you some idea. I have tried also to order them by year, but it may not be accurate all the time.