About the Webmaster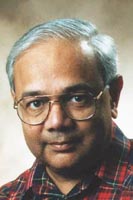 Gautam Choudhury
As far as I can remember, I have always been an admirer of Salil Chowdhury's music. I remember back in my university days in India I would organize groups and we would all sing Salil's compositions such as 'O aalor patha jaatri' in harmony. But much before that, I mean during my early teens I was absolutely amazed with the compositions such as 'Jaa re ja re uDe jaare paakhi' or ' Naa jeo naa' by Lata or 'Moner janaala dhore' by Hemanta Mukherjee. That was when I started playing harmonica and guitar. Salil's songs were in one hand a great challenge to play but they were also our great inspiration and musically very educational. In those heady days nearly everybody, at least most of my musical friends, talked and argued about the unblievable chord progressions and the complicated harmony in Salil's songs. We would wait like hungry children for any new Salil song to arrive in the shops and would just devour it. I am not ashamed to admit that my musical taste, knowledge and thinking changed completely after I started getting into Salil's compositions. I knew then that I had to meet him. After I finished my masters degree I moved to Calcutta and started working for an oil company. My main interest however was to get into the music circle as soon as possible. This is when I formed a harmonica group playing popular western music in clubs and restaurants. We got our gigs through an agency run by an Englishman called Toby who cheeliky named us 'The Bloworms'. I guess I was the first in India to play the two-foot long Chord Harmonica in those days. I also joined Calcutta Youth Choir as one of the singers and played the rhythm guitar with the group. It was then that I also got opportunuty to play guitar as a sessions musician in some Bengali films. The four years I spent in Calcutta was wonderful and I really learned a lot. I can't say that I was much impressed with my job. It was then that I decided to leave India and travel around a bit.
After I left India I settled down initially in the UK and decided to join the IT industry. In those days IT wasn't so much in favour, but I quite enjoyed it anyway. Besides I got really involved with the harmonica movement, joined several UK and European harmonica clubs and frequently traveled around Europe playing and attending harmonica festivals. I met some freelance film makers working on behalf of BBC TV who were planning to make a film on harmonica and I traveled with them all over Europe. The result was a 8-hour documentary, beautifully shot but after editing ended up as a film called 'Playing the Thing' - a 30-minute docu-story on harmonica. It has been shown all over the world and had received critical reviews.
After a few years I left UK and worked in Germany,Spain and Belgium before returning to the UK, got married and left for Holland. This is where I live now.
Before I moved to Holland I used to know quite a few harmonica players in Holland who helped us to make the film "Playing the Thing". One of the harmonica groups I knew asked me to join them as a Bass player. Since I could not play Bass at all I had to learn reading the Bass clef first and practice day and night to master the Bass. Learning the Bass was less of a challenge. The bigger challenge was getting the right sound, using the microphone correctly and playing with the group creating a professional sound. Well, eventually I was accepted and for a few years really enjoyed playing the Bass with a harmonica group called "The Rapidos".
Finally I met my idol and my 'guru' Salilda in the early eighties and since then I kept regular contacts by telephone, through letters and annual visits to India until the last days. I talked to him only a few weeks before he was taken ill. I was also very lucky to meet him in the UK and in the US a couple of times. During his USA and UK visit Salil recorded the background tracks of some of his most memorable compositions and along with Sabita,Antara and Sanchari they sang those songs. The concerts were just fantastic. As Salil explained to the audience - 'I spent endless days and a very large amount of money to record these tracks in my studio'. The result was a pure joy to hear. His new arrangements of all those well-known songs using modern recording techniques and his use of instruments was really wonderful.
This is when I decided to record some of Salil's songs in my harmonica and talked to him about it. He agreed to help me to record some songs in his studio in Calcutta. The result was the album 'A tuneful tribute to Salil Chowdhury' released by HMV. Since then I have released a few more albums, not all Salil music. After Salilda's sudden and untimely death, I decided to record another CD of some of his most memorable Bengali songs. This album is called 'Durer Thikana' and was released by EMI.
In 1998, I decided to host a website in his honour and at the same time search, find, collect, digitally record and clean all his compositions. My dream is to try and preserve all his compositions electronically for the coming generation. I know this is not easy but that is my goal. The website was launched on his 3rd death anniversary - on September 5, 1998. Since then, I have been busy perfecting the content of the website, adding new information, hosting songs and answering hundreds of emails I receive. I had no idea that out there there are so many Salil admirers.
It's a wonderful feeling sharing Salil's songs.