Antara Chowdhury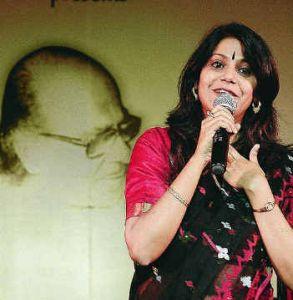 Antara, Salil and Sabita's elder daughter started singing from an early age. She stunned everybody when she recorded that beautiful song in the film 'Minoo' with Manna Dey....'Teri galiyo.n mei.n hum aayee'. Antara became a household name when Salil composed over 25 children's songs for her. Before Salil, childrens songs were practically unknown in Bengal besides probably some compositions by Annada Shankar Roy.These songs changed that completely and are still extremely popular. In his typical style, Salil composed some wonderful songs such as 'O maago ma' and 'Bul bul paakhi moina tiyee'. These songs, although for children, often raised questions and made sharp comments on the social injustice. Since then Antara has matured into an excellent singer, well trained in Hindusthani classical music and western music. She is also a fine pianist, a talented composer and arranger. She had to struggle hard though to shake off her original image of a singer who only sang 'Childrens songs'.

Hnd = Hindi; Mal = Malayalam; Tam = Tamil; Tel = Telegu;
Kan = Kannada; Bng = Bengali; Oth = Other
Salil composed some wonderful new songs in the late eighties and nineties experimenting continuously with new styles and new techniques. However, quite a few of these songs did not become popular because they were not marketed properly. One of them is 'Amono saghana barashaay'. Using rich strings and the appropriate Raag he created a wonderful atmosphere of the rain ! The other exceptional composition is 'O bhola mon'. Salil used the Suspended 4th chords with the 5/4 rhythm (paanch maatra) for this folkish song. I consider this song as one of his best. In fact, he was quite proud of it himself. This song is however based on the amazing title music of the TV Serial 'Darpan' which Salil composed back in 1985.This piece is truly a vintage Salil classic with amazing chord progression and harmony. I was stunned when I heard it.
At the same time, Salil did some strange things for which I have no explanation. For example, he let Antara sing a pretty sub-standard Bengali version (see song #AN32 above) of that most beautiful Lata and Hemanta duet (Jhirjhir jhirjhir badarawa barse') from the Film 'Parivaar'. Salil even changed the melody of the 'antara' in this Bengali version ! Not to everybody's liking, unfortunately. Salil also wrote the lyrics of another traditional song previously recorded by Ranu Mukhopadhaay ('Akash kusum diye' #OS48) and let Antara record it again as 'Ak po dudh kinechhi'.