Hemanta Mukherjee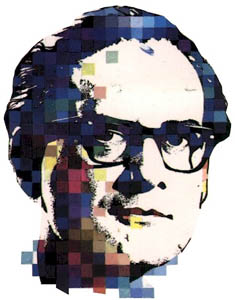 Probably the most famous and the most loved singer of Bengal. Salil said once that if God could sing he would have a voice like Hemanta. Bengalees all over the world lovingly call him Hemanta or Hemantada. In the rest of India he is known as Hemant Kumar. Bengalees really fell in love with him when he started singing Rabindrasangeet. His wonderful deep voice, his delivery and his perfect pronunciation gave Rabindrasangeet a totally new dimension. Besides recording for most of the Bengali composers, he himself was an accomplished composer. His first song for Salil was 'Gaanyer Bodhu'. Rumour has it that when 'Gaanyer Bodhu' was released Salil wasn't even around. He was hiding from the police somewhere in the Sundarbans due to his associations with the communist party. Anyway, 'Gaanyer Bodhu' immediately established Hemanta as an important singer in the Bengali music scene and Salil as the new composer and lyricist. It was going to be one of the most important and long lasting musical partnerships in Bengal. I don't think there will ever be another composer like Salil who would create songs like 'Moner janaala dhorey' or 'Amaay prosno karey neel dhrubotaara', and any other singer who would be able to sing these songs like the way Hemanta did.
Salil and Hemanta's songs have now become an integral part of Bengali culture ....
Hnd = Hindi; Mal = Malayalam; Tam = Tamil; Tel = Telegu; Kan = Kannada; Bng = Bengali; Oth = Other
Hemanta-Salil combination revolutionised bengali modern music completely. Bengalees were stunned after the release of "Gaanyer Bondhu". Never before such a song was composed in bengali. With Hemanta's rich and melodius voice with perfect pronuciation and Salil's unique and unparalleled lyrical and compositional superiority changed the course of bengali modern music for ever. Salil achieved another milestone by composing some of the famous poems of his dear friend the revolutionary poet Sukanta Bhattyacharya. These songs have since become a part of the Bengali culture and the poems are not read as poems anymore. They have metamorphosed into songs. Such was the power of Salil's composition. There is an amazing version of "Abaak Prithibi" recorded by Debabrata Biswas - so completely different to Hemanta's rather laidback version of the same song. There's also a hindi version of Gaa.nyer Bodhu. This song was recorded by Hemanta most probably on his own initiative. The opening melody line is different and so is the arrangement. Doesn't sound like Salil at all. And the lyric ( no idea who wrote it) is pretty pathetic.
Sadly this golden combination did not continue for long. There was a long gap before Salil would compose some new songs for Hemanta. But that was too late. By then Hemanta had already lost his golden voice and often he found it difficult to hold notes. Singing Salil's songs became more of a punishment than a challenge. Their last joint effort was in 1981 and 1982. Several superb compositions were recorded by Hemanta but the result was poor. Shibaji Chattopadhyay recorded one of them "aar dur nei" later which sounds much better. Sadly one of Salil's best compositions in the '80s "aar kichhu naa" recorded by Hemanta was too complex for him and its really painful to hear him sing that.
I wondered why Salil never asked Shibaji to rerecord this song.